Fun FoodSaver Group Giveaway!
FoodSaver Group Giveaway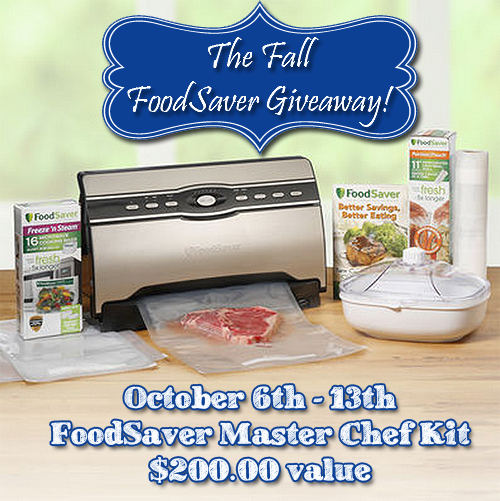 We are having a FoodSaver Group Giveaway today! This is a great way to preserve your food for an extended amount of time, not to mention for your harvested venison and other wild game!! I know you will love this FoodSaver.
This FoodSaver Giveaway is open to any resident who is 18 years of age or older who lives in one of the 48 US Contiguous States. This giveaway starts on Monday, Oct. 6th at 5:00 am (MDT) and ends on Monday, Oct. 13th at 5:00 pm (MDT). The winner will be notified by email and will have 24 hours to respond. If we do not hear back from said winner in the designated time period of 24 hours we will choose another winner and they will have 24 hours to respond from the time the notification email is sent. Please check your SPAM email folders. Good luck to everyone! Let's be prepared for the unexpected!
*****Please note: We may have to exchange this exact FoodSaver with a comparable or more expensive FoodSaver should this item sell out or not be available when our giveaway ends. Thank you so much for your understanding. Good luck!